Presentation of the company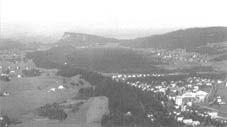 The "Valley of Joux",located 1000 meters above the sea level, in northwest of Switzerland, is part of the Jura, and is known except its natural asset lake-mountain, for the quality of the watch brands there. Added to this, probably due to the harsh climate, a unique ability of its people for watchmaking and microtechnology. In time, the long winters, difficult communications way and isolation inherent led the inhabitants of the "Valley of Joux" to find feasible occupations in, taking little space and require a knowledge transmitted and developed from generation to generation. These people have designed and built, and it continues today, the mechanical movements of the most complicated watches in the world.
Alfred Rochat (here with two of his sons), native son of the country having become master watchmaker and having trained watchmakers himself, created his own watch factory in 1941 by hiring watchmakers trained by him. Having acquired the brand AROLA after some years, he later founded the company AROLA Alfred Rochat & Fils SA while maintaining its activity in the service for famous brands and appreciated.
The watches produced by the company has constantly evolved over time. From the basic chronograph, certified by a chronometer certificate by the Swiss Official Observatory to movements with the development of complications such as moon phase indicator, indicator of the tides, split second, skeletons watches, dual time, day-night indicator, regulator, jumping hours, etc.
The company's products are based on existing calibers which are acquired, and to which are made necessary changes in order to add the complications developed by the technical office and performed on digital machines, and machines designed and / or adapted to specific needs of each range.
This evolution continues in order to provide increased value to customers and to satisfy a taste for the technical challenge.
Each watch produced by the factory AROLA Alfred Rochat & Fils SA is not just a simple watch, but a technical jewel, from a Swiss watch manufacturer, to which was brought all the knowledge and love of fine mechanical engineering.